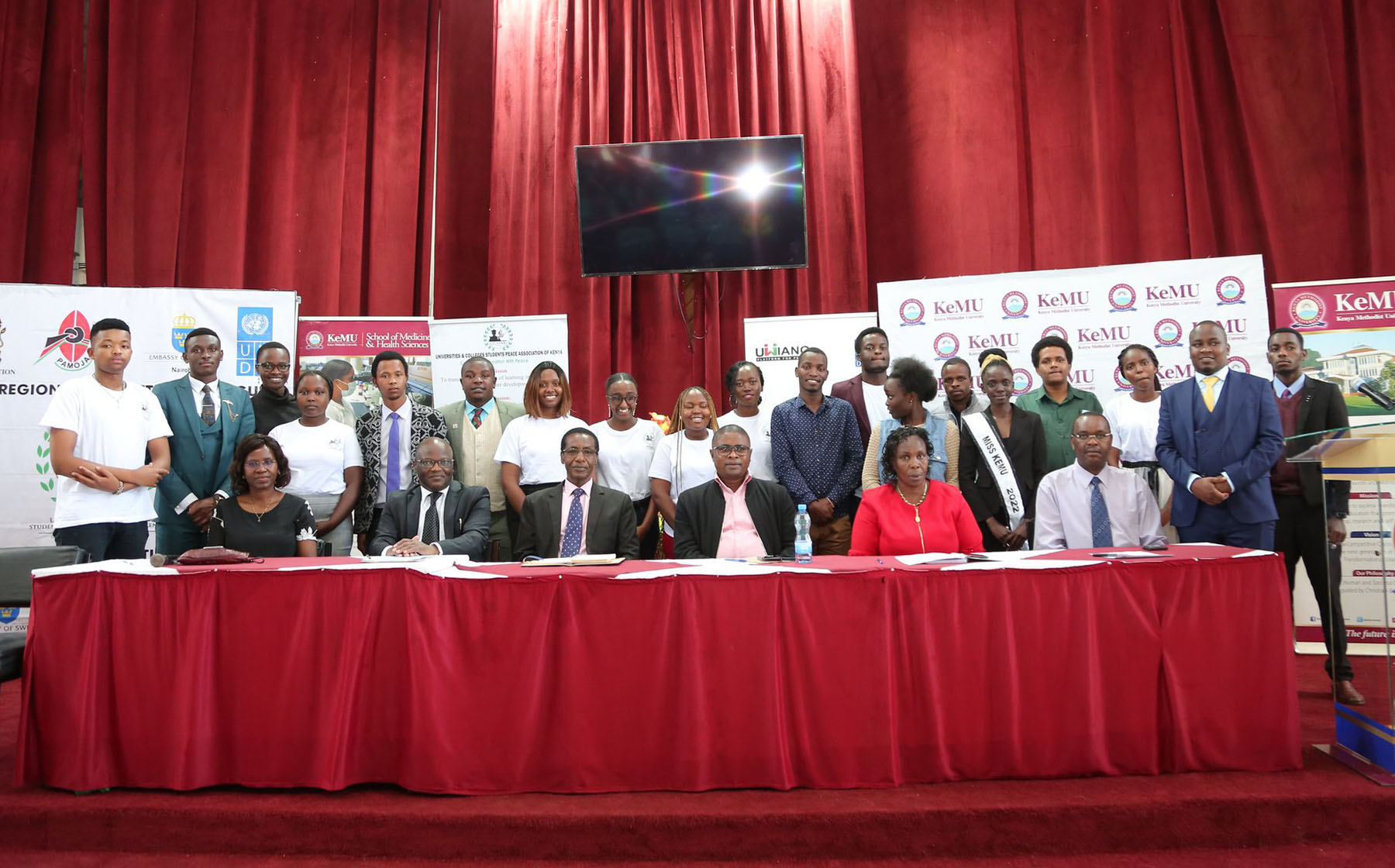 When delivering the keynote address from the Chief Justice and the President of the Supreme Court of Kenya, Hon. Lady Justice Martha Koome during the Commemoration of International Peace Day hosted by Kenya Methodist University and UCSPAK, the Presiding Judge, Meru High Court, Hon. Justice Edward Muriithi commended the students for being at the frontline in chatting a peaceful path for our country Kenya.
"I am delighted to see young people in our institutions of learning take a leading role in nurturing a culture of peace in our communities…. This reassures us that our future as a nation is in good hands."
During the opening ceremony of the two days peace dialogue (20th to 21st September 2022), the Vice Chancellor Kenya Methodist University, Prof. David Gichoya welcomed the young people from all institutions of learning to use their youthful energy in promoting and engaging in peace dialogues as this gives hope of a future where people will coexist in peace. Endeavoring to produce a generation of transformational leaders, Prof. Gichoya assured of the university's commitment to producing a generation that is holistically empowered to be peace catalysts in the Society. As a Christian University, KeMU's role in promoting peace was applauded.
Sponsored by the Universities and College Students Peace Association of Kenya (UCSPAK) and in partnership with the Ministry of Education and the National Cohesion and Integration Commission of Kenya (NCIC), the Central Region Post Election Peace Dialogue brought together university and college students to reflect on the past and chat a peaceful path for the future. Over 7 institutions of higher learning were represented.
The dialogue revolved around pertinent issues allowing the young people to cross examine various issues while thinking through both sides of the coin in exchanging ideas on ways to promote peace and similarly identifying key threats of a peaceful coexistence. The occasion was also graced by the presence of Mr. Wycliffe Mwatu, a representative of the NCIC, and Ms. Karen Mwangi a representative of the IEBC.
UCSPAK KeMU, is a chapter under the organization founded in 2015 by UCSPAK's Executive Director Mr. Allan Chacha. Spear headed by the students and their leaders, KeMU will be a pioneer university in implementing USCPAK Structures in Connecting Peace with Education. This creates a platform for university students to actively engage in being ambassadors of peace.